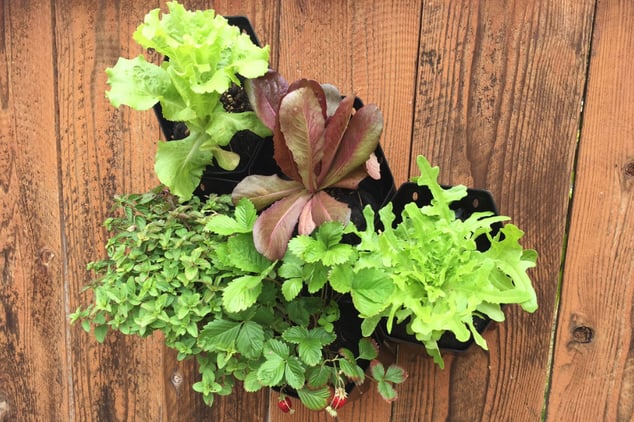 Installing a living wall system that won't age well over time will lead to unhealthy plants in the long run. Make sure your living wall comes with a guarantee - just like the GrowUp Greenwalls system does.
One of the most efficient solutions to create environmentally friendly environments is the installation of a living wall. They're beautifully designed and have a lot of health benefits including improved air quality, balanced humidity and noise reduction.
But, if you're worried about purchasing expensive and badly made living walls, you've come to the right place. We share three common errors you should try avoid when purchasing a living wall.
Artificial living walls don't have any health benefits
Although artificial living walls will always look great, you should avoid installing these as they don't have any health benefits whatsoever. The plants don't collect oxygen or absorb carbon dioxide like real pants do and are thus not beneficial to anyone's health.
According to Ambius, the global leader in creating enhanced commercial spaces, "Living green walls infuse the dull expanse of interiors with life-renewing greenery. They offer an inspirational and aesthetically intriguing natural boost to employee morale. Whether they are installed on the exterior or interior of a building, the structures of living, breathing plant life create the 'wow factor' so many interior designers seek while championing sustainability."
Most of the time, artificial living walls also look fake and tend to collect dust which is more likely to increase allergies. They are also a big fire hazard as they're treated with chemicals to make them last longer. Living green walls provide sound insulation, can absorb sound easily and are very suitable for any office environment.
Don't use complicated or manual irrigation systems
Although irrigation systems are crucial for green walls, complicated irrigation systems are very hard to maintain and understand, so don't complicate your life any further. A system like GrowUp Greenwalls is easy to switch on and use with a simple, natural drip-irrigation system, mimicking nature.
According to SFGate, an online news and entertainment platform in San Francisco, "Hand-watering green walls is time consuming and it's easy to over- or under-water your plants this way. You must water slowly from the top, and give the water time to absorb to the bottom of each planter. For this reason, most green walls are watered with drip irrigation and use automatic irrigation that times watering to reduce water waste."
Grant Leishman, CEO and founder of GrowUp Greenwalls says, "With our system you can automate the irrigation system and there's no complicated hydroponics involved. The GrowUp Greenwalls system is built around drip irrigation and is very easy to maintain. Water is collected in tanks and redistributed throughout the garden"
Read: Hydroponics vs soil-based green walls
Cheaper is not always better
There are a lot of cheap green walls on the market, but it doesn't necessarily mean that the cheaper systems are better. If you spend a little bit more money and time to get a green wall that suits your needs, you'll be pleasantly surprised with the outcome.
Says Grant, "In a simple soil-based system, the correct plants and an automated watering cycle ensures your wall requires minimal maintenance. With the right system, green walls are more affordable than you think."
The GrowUp Greenwalls system will be completed on the day it is planted and there will be minimal mess and construction on your site. Our website also states, "Our system is soil-based, which substantially reduces maintenance compared to the common hydroponic vertical garden. Water is stored in the soil for a longer period of time and the soil ensures the longevity of the plants, should there be any system failures."

Our solution provider checklist can help you make an informed decision when purchasing a green wall - we can help answer the below questions:
What do I need to buy to create a green wall?

Can my system be taken down and reused somewhere else?

In 6 months' time, what will my plants look like?

Can I swap out certain plants or will it affect the rest of the system?

Is my system waterproof?

Can the water be recycled?

Is installing a green wall wasting water?

How water-wise is my green wall?

Will you green wall be perfect form the get-go or will you see plastic sticking out in between?
Investing in a good green wall system, will definitely allow you to enjoy the health benefits they have to offer. A green wall may contain a lot of plants, but it is a great investment and gives you the opportunity to be super creative.
If you'd like us to assess your current green wall system, contact us below for a personalized quote: