Vertical gardens make the home healthier for humans.
In a previous blog, Damon discussed how beneficial biophilic design is to humans. It makes us feel calmer and happier in our homes. It keeps our minds and body healthy.

Incorporating green walls in a home design is one of the best ways to embrace biophilia. It is the easiest, fastest, and most cost-efficient option for many homeowners. This is the reason why many professionals in the design and construction industry who have pledged to create healthier, nature-filled, and human-centrist homes recommend this to their clients.
Vertical gardens beautify a home's
façade.
Bits of greenery can be hard to come by in urban areas. When possible, designers recommend installing vertical plantings on one of your house's exterior walls. It would be nice to see a living wall of plants alongside plain stucco and brick houses. Vertical gardens like this add life to the urban streetscape, as seen in this photo of Ton That Thiep St. in Saigon Centre, Ho Chi Minh City, Vietnam.
Vertical gardens bring nature indoors.
A lush green wall like this not only beautifies indoor and outdoor spaces. It can make us feel more connected to nature, despite extended hours of staying indoors.
So, where is the best place to install a vertical garden in your house?
Planting a vertical garden in an indoor-outdoor area encourages activity in these areas and most likely brings fresher air inside the house.
Growing a vertical garden inside the bathroom is also a great idea. Homeowners nowadays appreciate bathrooms that look and feel like a sanctuary. Lush green with moisture-loving plants like this creates a soft, spa-like vibe near the tub.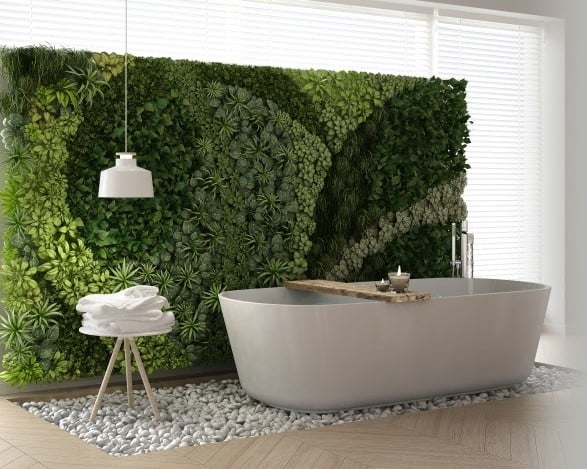 Vertical gardens disguise a flat wall.
Green walls can cover a bland wall and can create a new focal point. It can also be framed like artwork. Either way, the green wall is a one-of-a-kind display that sparks a conversation.
Vertical gardens function as a privacy screen.
Vertical gardens installed on a fence are a cost-efficient substitute for a hedge. It enhances the space's privacy and makes any fence or divider more functional.
Vertical gardens maximize the available garden space.
Maintaining a vertical garden is a wise decision if you have a small and narrow yard. It allows homeowners to grow decorative plants and food without taking up too much space.
These are the reasons why design professionals love to add green walls to their projects.
It refreshes the structure inside and out.
It counters the apparent implications of so much indoor time to our health and well-being.
It makes homes more pleasant and comfortable for the occupant.
So, the next time you think of renovating or revamping your space, consider incorporating vertical gardens into your plans. Living vertical garden delivers a significant impact without taking up so much space. Not to mention, nature is the most beautiful and most timeless décor you could have at home.
For Information About Adding Green Into Your Space: