Aesthetics
7 Restaurants with Magnificent Greenwalls
Green walls are a global interior design trend, both at home and commercially. Here are seven breathtaking green walls in restaurants around the world.
---
Green walls are a hot, global interior design trend, both at home and commercially. Here are seven breathtaking green walls in restaurants around the world.
If you're looking for the ultimate "wow" factor to spruce up a blank space in your restaurant, then a green wall is a pretty great solution. The living wall trend has taken the world by storm, and it's not hard to see why. . .
---
GREEN WALLS ARE A SMART ADDITION TO ANY RESTAURANT
When done right, green walls are beautiful and functional works of art. Think an excellent dining experience is based purely on food and service? Think again! Nowadays, with the movement to a more natural, organic lifestyle, bringing natural elements into your interior design is critical. Customers subconsciously make a connection between a natural look and feel in your design, and the quality of the products used in producing your meals.
Green walls freshen the air and reduce noise pollution, and if you have a "farm to table" model, picking fresh greens and herbs for your meals, right next to your patrons, is very enticing. But more than that: there's nothing worse than eating in a dark, stuffy and overly noisy space.
Plants help to disguise any off-putting smells, remove toxins from the air and drown out any annoying sounds (like cars honking their horns in the road outside). Having a living wall in your dining area will the space look and feel more inviting, and lead to a more pleasant dining experience for your guests.
Take a look at how these restaurants used decorative green walls to create the ultimate tranquil dining environment.
---
GOLDIE'S | CALIFORNIA, USA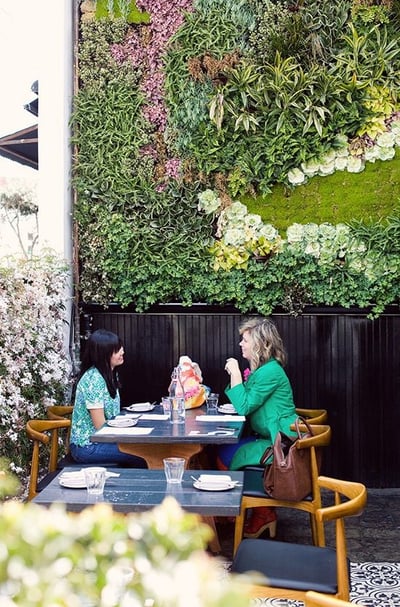 Image source: Pinterest
Looking to create a relaxing space for your customers to catch up over cocktails and a bite to eat? Goldie's has got the laid-back atmosphere spot on with their beautiful outdoor display. The mixture of textures, vibrant shades of green, and a cheeky splash of lilac, come together to create a dramatic living collage.
GrowUp's green wall system is designed specifically to give decorative green walls maximum impact. The honeycomb pot system acts like pixels on a screen, minimising unsightly gaps between plants and giving you a lush look right from the start.
---
EDULIS | MADRID, SPAIN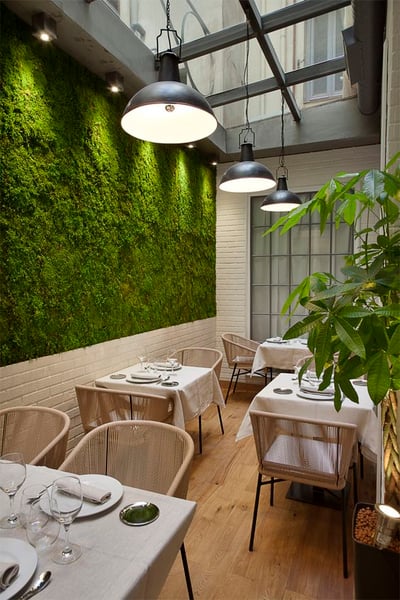 Image source: Pinterest
A green wall doesn't need to be an elaborate work of art to make a statement. The lighting on the green wall casts a dramatic show of highlights and shadows - proving that it doesn't take much effort to turn your vertical garden into the star feature of a room.
We love the simplicity of Edulis' living wall, which has been so tastefully combined with earthy tones and textures to create a delightful dining environment.
---
FIREFISH | CAPE TOWN, SOUTH AFRICA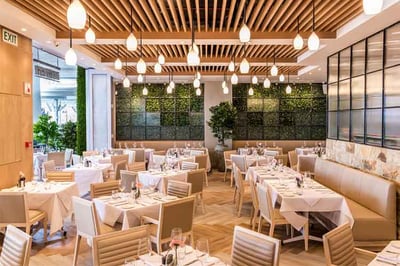 Image source: Inside Guide
Talk about a classy twist on a vertical garden! We love how Firefish have used glass panes to create an interesting, reflective display, which is enhanced by the room's lighting.
---
PADRINOS | MEXICO CITY, MEXICO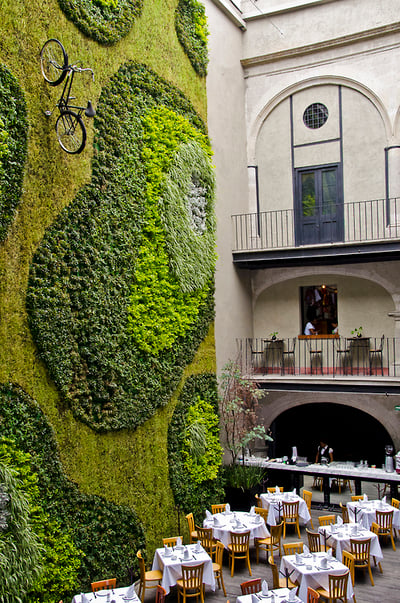 Image source: New York Times
This is by far one of the most incredible examples of a vertical garden we've seen yet. The enormous eco-sculpture depicts a world turned on its side, and aims to provide both art and oxygen, in the heart of the city.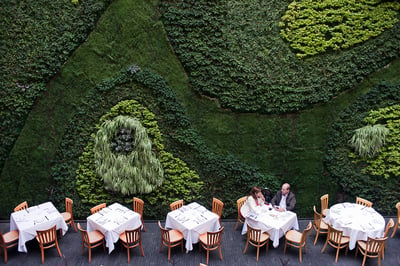 Image source: Pinterest
The green wall is one of three eco-sculptures in Mexico City, built by the non-profit organization, VerdMX, to uplift the community and protect the environment.
---
ORGANICS | BARCELONA, SPAIN
I mage source: Inhabitant
Organics is on-trend with their magnificent living wall. This bright, colorful display greets customers at the entrance, welcoming them in for a good, wholesome organic meal.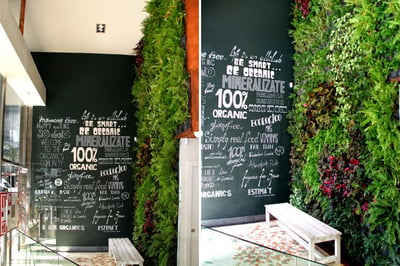 Image source: Inhabitant
We love the patterns, textures and color palette in this green wall. Don't be afraid to let your green wall installer get creative with your green wall. Bright colors pair beautifully with neutral restaurant décor, and can take a mediocre interior to a whole new level.
---
A green wall is a versatile, aesthetically pleasing and highly functional addition to any restaurant. Whether you're trying to hide an ugly set of pipes on the wall, create a partition for extra privacy or just enjoy the benefits of bringing nature into a room, living art is undeniably striking.