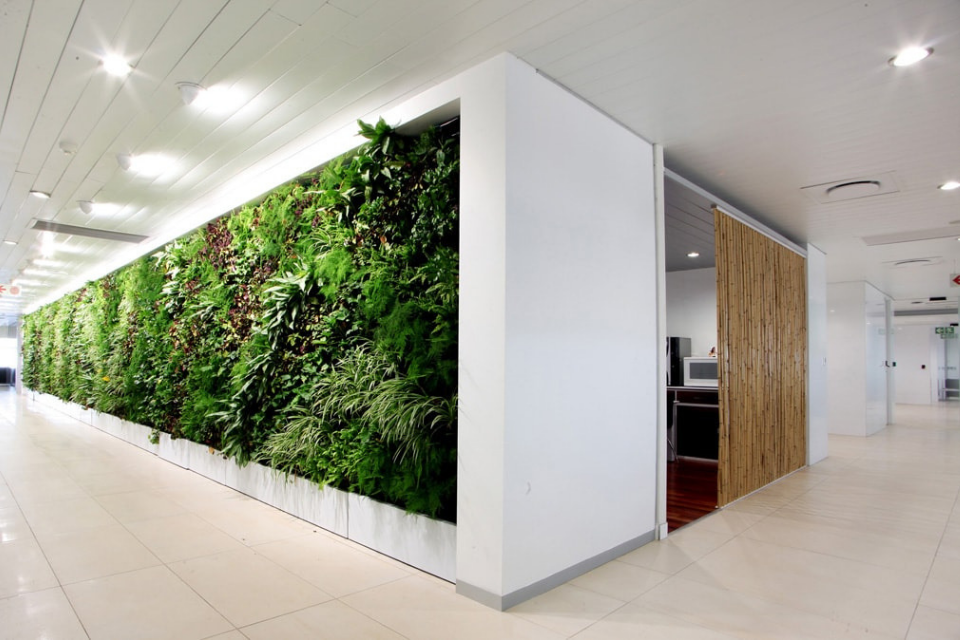 A green wall is an easy way to make a great first impression on people visiting your business. Here's why designers should include green walls into their business model.

Bringing green walls into your office space is a great way to boost productivity and improve concentration levels. One of the biggest benefits for designers, however, is how cost-effective modern green wall systems can be and, for design-build companies, living green walls can be a very profitable product line.

According to the American Society of Landscape Architects, green walls are cost-efficient: "Through shading, green walls can lower temperatures in summer and reduce energy costs by 23 percent."
Why should designers incorporate green walls into their business model?
Greenscreen, a landscape trellis provider believes, "Designers of green walls can work at a great range of scales, from the creation of small private space interactions like intimate garden settings, to the monumental scale of a multistory project."

Planted Places founder and landscape designer, Christy Ross, believes incorporating green walls into her business model has given her the opportunity to build great customer relationships year round. "What is really important from a business model perspective is that people will hire you and have one consult and you'll complete one task for them. A green wall allows you to bring a whole new product offering with a higher margin to the market.

Grant Leishman, CEO and founder of GrowUp Greenwalls says, "People love green walls, so their clients will love them too and thank them for including it in their design. It's a really easy way to make a big impact on the environment as a whole."
How can designers benefit from using the GrowUp Greenwalls' system?
Ross continues and says she's a unique designer as she puts together living wall kits with leafy and succulent plants and the GrowUp system has given her the opportunity to reach DIY gardeners in the San Jose area.

The GrowUp Greenwalls system is a perfect fit for her business model as it's extremely cost-effective, has a great watering and irrigation system and its installation process is very quick.

Read blog post: The Sustainability of the GrowUp System

One of our recent articles states, "The GrowUp system is designed to make professional quality green walls accessible to anyone – whether you're a home user, a plantscaper or an urban farmer. With it's simple, soil-based, modular design, GrowUp's system is perfectly suited to scale up or down to suit your needs. The hexagonal pots ensure that you enjoy an instant lush effect, and the ability to plant off-site ensures that your installation is completely mess and hassle-free (so you don't have to worry about your office turning into a disaster zone during your redesign)."
Can designers profit from including green walls into their business model?
Green walls can be a very profitable part of the landscaping business as they are high impact, fashionable and unique, and if planned properly can be installed cost effectively. Installing and maintaining living green walls also creates an opportunity for a recurring revenue source.

Christy believes, "Green walls can be very profitable for designers and installers, but it depends on the components they use for their business. By selecting a system that is appropriate to the client's needs and that is easy to install and maintain the client can get a great product at a great price and the installer and designer can still make excellent profit margins."


Planted Places has found working directly with a business like GrowUp Greenwalls very beneficial to their design and installation work with clients, and they recommend getting your designer and installer involved from day one.

Grant says, "We can give our clients an instant effect. On the day we walk out, they have a finished product and our lead times are very short. Our installation partners have the ability to install a green wall within a week of approval (although this is not ideal and we prefer a longer lead time). This gives us a huge advantage over our competitors as the planting is done off site and an installation can occur the very next day."

Designers, we'll say it again! Incorporate green walls into your business model for their many benefits - and you'll see the increase in your win rate and your profit margins.

If you're a designer or would just like to find out how the GrowUp system can benefit your business, contact us below: