Aesthetics
Budget Savvy: A Greenwall For Your Office Redesign [UPDATE]
Installing a greenwall doesn't have to use up your whole redesign budget! Enjoy all the benefits of a greenwall with GrowUp's professional greenwall system
---

Installing a greenwall doesn't have to use up your whole redesign budget! With GrowUp's low-maintenance, professional green wall system, you can enjoy all the benefits of a green wall in your office without breaking the bank. But, don't take our word for it… read what others have to say.

Biophilic design (incorporating natural elements into man-made structures), is quickly becoming a necessity rather than just a popular trend. There are many reasons why including plants in your interior design (both in an office environment and at home) is a great idea.
---
Why you should consider a greenwall
Traditional potted plants take up large amounts of precious floor or counter space. Including a green wall in your redesign offers a space-efficient solution which is both visually appealing and fits a greater number of plants into a smaller space. This allows you to enjoy all the health (and other) benefits of having plants indoors, without the inconvenience of pots all over the show.
In a business environment, green walls can also help you earn LEED points which are awarded to companies for using environmentally responsible building practices. This not only boosts your reputation, but can increase the value of your real estate and lower your energy consumption costs.
---

---
Where can greenwalls be used?

Everywhere!
Plants can be included in your office space to make people feel more at home and creative. However, it's very important to conduct regular greenwall maintenance to optimize the use of water, making sure the irrigation system works properly as well as fertilizing and pruning on a regular basis to ensure healthy looking plants.
According to Total Landscape Care, an online magazine, "Green walls are very up and coming with customer popularity in the landscape design industry, and they are safe to install on almost any structure, outside or indoors. They are a good statement and focal piece in landscapes and they also help create a good, welcoming environment. Each green wall will be different depending on your client, so be flexible and have a few design and plant type options up your sleeve when brainstorming. Be sure to remember that different designs and plants will be used in outdoor and indoor green walls also."
Try experimenting with different areas in your office by adding a green wall to your boardroom, reception area, noise dampening areas as well as restaurants and hotel lobbies to showcase environmentally friendliness and your company's culture and values. The noise in offices can be very distracting, so it's extremely important to reflect and absorb sound with a green wall.
---
Greenwalls can help you score LEED points in six different categories:
Sustainable sites (5 points):
Exterior green walls reduces the solar reflectance of a structure.

Water efficiency (5 points):


Buildings can incorporate a stormwater collection system for the irrigation of green walls.



Energy and atmosphere (18 points):


Green walls provide additional insulation and natural cooling.

Materials and resources (1 point):


The number one advantage of a green wall is that it increases the overall property value of a building.



Indoor environmental quality (3 points):


Reduce particulates in air distribution.



Innovation and operations (4 points):


Green walls can contribute to waste water.



Read our blog post: Boost your LEED credits with decorative greenwalls
This adds up to a total of 36 out of the 40 points required for your building to be considered LEED certified. If you're already LEED certified, and are aiming to boost your certification to either LEED silver, gold or platinum status, a green wall can help you achieve your goal almost instantly.
---
Other business benefits that green walls offer
Apart from boosting your LEED score, green walls can have additional cost-saving benefits for your business.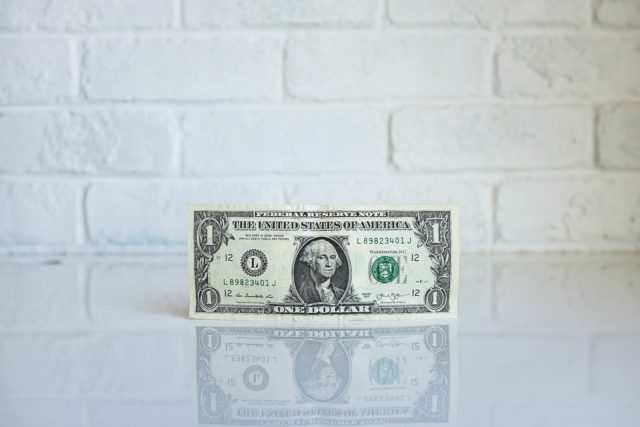 A green wall can help boost your bottom line. Absenteeism costs companies thousands of dollars every year and decreases your productivity levels. In fact, Forbes Magazine writes, "Unscheduled absenteeism costs roughly $3,600 per year for each hourly worker and $2,650 each year for salaried employees."

Among the most common causes of absenteeism are illness, stress and burnout - all three of which can be combated by installing a green wall. Having plants nearby is proven to increase the air quality in your office and improve people's mood and morale - leading to happier, healthier and more productive staff.
---
The right green wall system is both low-maintenance and cost-effective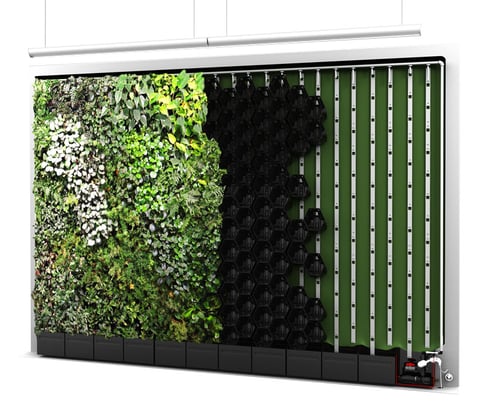 People often shy away from green walls due to the misconception that they are very expensive to install and maintain. This isn't the case anymore.
The GrowUp system is designed to make professional quality green walls accessible to anyone - whether you're a home user, a plantscaper or an urban farmer. With it's simple, soil-based, modular design, GrowUp's system is perfectly suited to scale up or down to suit your needs. The hexagonal pots ensure that you enjoy an instant lush effect, and the ability to plant off-site ensures that your installation is completely mess and hassle-free (so you don't have to worry about your office turning into a disaster zone during your redesign).
Planted Places founder and landscape designer, Christy Ross says, "There are so many benefits to bringing plants to your space as people are starting to care about the environment and their workspace more."
The GrowUp system is a perfect fit for any area as it has a great watering and irrigation system.
Christy continues, "The GrowUp system is so versatile and allows me to be very innovative as an organic edible gardener and creates a DIY channel for people working in urban areas to create their own organic garden."
---
Read blog post: The sustainability of the greenwall system
Greenleaf Interior Plant Solutions, a company specializing in commercial and residential plant solutions says, "Green walls are an excellent solutions for businesses looking to add as much greenery to their office as possible.
---
A cost-effective, green wall system like GrowUp's system (with the ability to automate your watering cycle), allows you to install a budget savvy green wall display that brings your entire space to life, boosts your LEED score and adds the "wow" factor your were looking for to your design. The automated drip-irrigation guards against the common maintenance problems caused by over or under watering. You can enjoy a stunning display right from day one, at a fraction of the cost of some of the more complex systems on the market - without sacrificing on quality.
Grant Leishman, CEO and founder of GrowUp Greenwalls says, "In a simple soil-based system, the correct plants and an automated watering cycle ensures your greenwall requires limited maintenance."
---
Want to find out more about how easy it is to include a green wall in your interior redesign? Set up a consultation session and we'll help you start your own lush green wall