The business of green walls
How to Sell a Greenwall to Your Client
Want to pitch a greenwall to your client, but not sure how to get them loving the idea? Here's some tips to help you overcome objections to greenwalls.
---
Want to pitch a greenwall to your client, but not sure how to get them on board with the idea? Here's some tips to help you overcome common objections to green walls.
---
Greenwalls are growing steadily in popularity, especially with the movement toward biophilic design, which means including natural elements in your design.
Not only are they an aesthetically pleasing addition to any space (both indoors and outdoors), but they provide numerous unexpected benefits - from better quality air, to noise reduction, increased productivity and stress relief. However, people are often hesitant at the idea of a green wall, as there are several misconceptions around the logistics and maintenance of a vertical garden.
This post will cover the key benefits of a green wall system, as well as how to demystify the costs involved in owning and maintaining a green wall. Once you've cleared up the common misconceptions around vertical gardens, you'll have a far better chance of convincing your client to give the go-ahead.
---
How to sell a greenwall in two simple steps
Selling a green wall shouldn't be difficult. In fact, we've broken it down into just two simple steps:
Step 1: Understand your client's needs.
Ask yourself the following questions while putting together your pitch:
Is my client looking for a striking feature in their office?

Is my client looking for a space efficient way to bring plants into their office?

Is my client looking for a low-maintenance way to include plants in their office?

Is my client looking for a way to reduce noise and create privacy?

Is my client looking to create a healthy, productive environment for their staff?

Is my client looking for a sustainable and environmentally friendly solution to boost their LEED score?

Is my client looking for value for money?
Step 2: Be ready to overcome objections.
Understand all possible objections to a green wall, and know how to overcome these objections. The two most common objections are cost, and maintenance.
---
Tips to help you upsell a greenwall
Make sure the initial price is right. Show your client that they're getting value for money - the right system should offer the client a bigger wall for better impact. Choose a system that offers the perfect balance between professional quality and reasonable pricing.


Sell a fully automated system. Let's face it, no business owner really wants the hassle of manually having to water their vertical garden anyway.


Always include the option of a maintenance plan - this secures an ongoing income, and will ensure the client gets the most out of their investment. It's a win-win for both parties.


Include extras like lighting and framing in your quote. Lighting is crucial to the health of your plants, and adds to the dramatic effect of the green wall. Framing gives the green wall a professional finish, so that the client enjoys that instant "wow" effect they were looking for.
Armed with the right knowledge, you can't go wrong - there's really no reason why your client shouldn't consider including a decorative green wall in their design.
---
How you sell a greenwall to your client will depend on your client's needs
Understanding your client's needs is crucial, as this will help you identify which benefits to highlight when pitching a green wall.
If the answers to any or all of these questions in the infographic above are yes, then they'll benefit from a living wall. Identify which of these factors are most important to your client, and highlight those benefits when you suggest including a green wall in their design.
For example:
If your client's offices make use of a lot of drywall, then they'd most likely be looking for ways to reduce noise and create privacy. Vertical gardens are the perfect solution.
Plants are the most attractive way to decrease noise pollution. They absorb and deflect sound - so the more plants you include in a space, the less noise will filter into or out of a room.
As you know, office space is expensive - so you can't have 200 potted plants wasting precious floor space just to stop sound from travelling. That would make no sense. Not only are potted plants bulky, they're hard to move and equally difficult to clean around. That's why thinking vertically is your best option.
A vertical garden fits a large number of plants into a tiny space. Purchasing a green wall system with automated irrigation means there'll be very little ongoing maintenance required (unlike potted plants which need to be watered manually). Not only will a green wall sort out your noise problem, but it will add natural beauty to the space and reduce the effort required to look after your plants. Sold!
---
The two most common objections to greenwalls
Cost:
one of the biggest reasons people are hesitant to install a green wall is because of the cost involved. However, this is a misconception - their vertical garden will only cost an arm and a leg if they choose the wrong system, the wrong plants or the wrong installer.

A professional installer will include a maintenance plan and the right plants for the environment. Explain to the client that by choosing a preferred partner to install and maintain their green wall, they'll dramatically lower the lifetime cost of green wall ownership.

To justify the initial outlay, break down the individual costs involved: "X amount for plants, X amount for the system itself, X amount for labour", and so on. Then compare these costs to what the client would have spent on things like artwork, air filters and soundproofing in place of a green wall. Artwork is beautiful, but it's horrifically expensive, and has no added benefits. Soundproofing a wall won't clean your air, improve your staff's productivity or help reduce the number of sick days in your office. A green wall is a holistic solution.


Maintenance:
the second most common objection to a green wall is maintenance. Again, this is a misconception. There are hundreds of green wall horror stories out there, but this boils down to the same factors as above. If they choose the wrong system, the wrong plants or the wrong installer they'll run into problems. The right system, installed by a professional like you, will be smooth sailing - with no mess and no fuss.

A simple soil based system, with automated irrigation mimics nature and gives your plants the perfect conditions to live a long healthy life.

With individual six inch, hexagonal pots, plants have plenty of room to grow a solid root base as they would in their natural habitat. By using individual pots, you'll also avoid matted root systems, allowing you to easily swap out any plants that aren't flourishing.
---
From zero to hero: get instant results with GrowUp's green wall system
Unlike other green wall systems, GrowUp's green wall system is designed to give you instant results.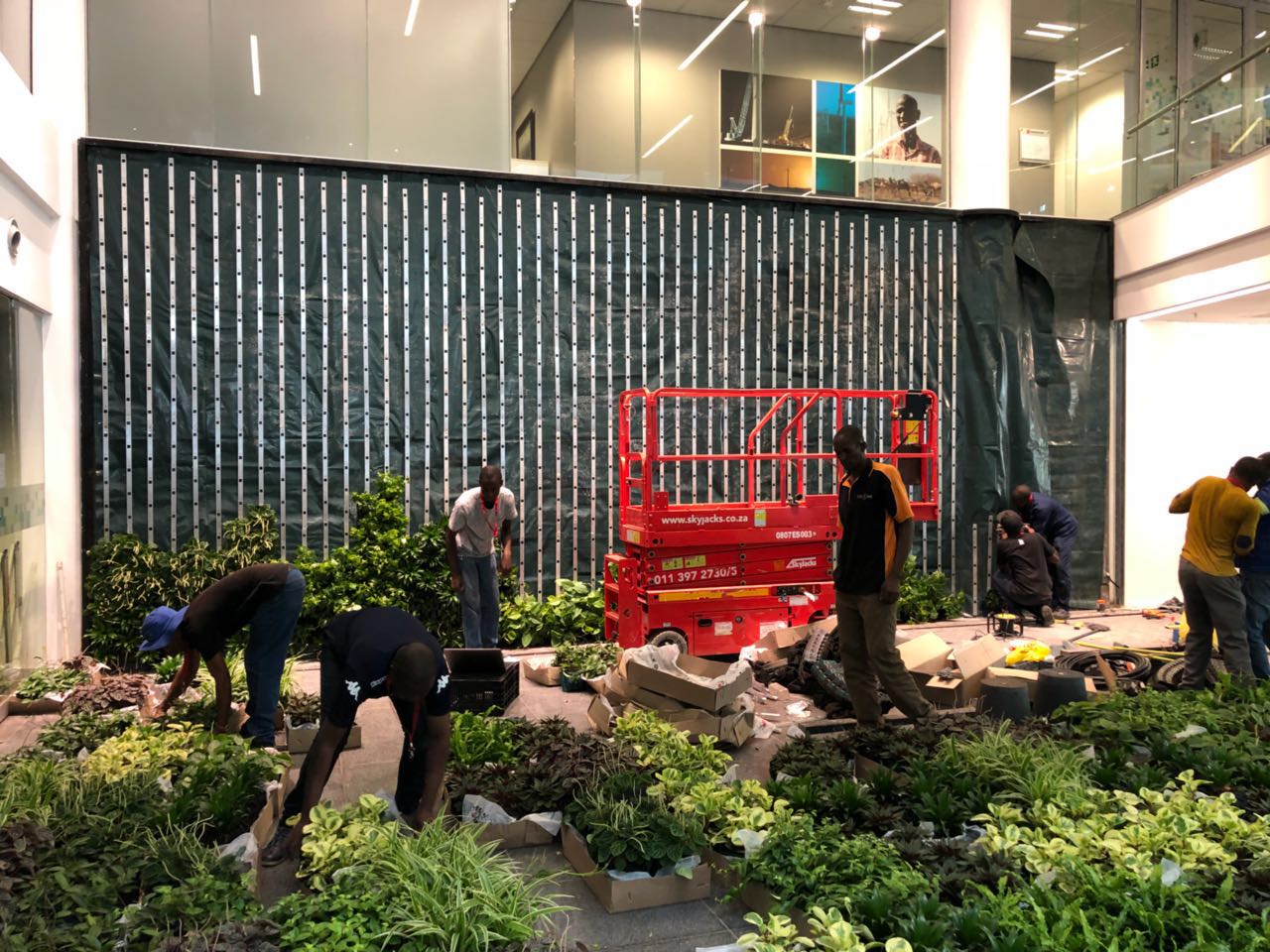 Our hexagonal pots can be planted off-site, allowing you to provide your client with a no mess, no fuss professional solution. Take their breath away with a dramatic display from day one!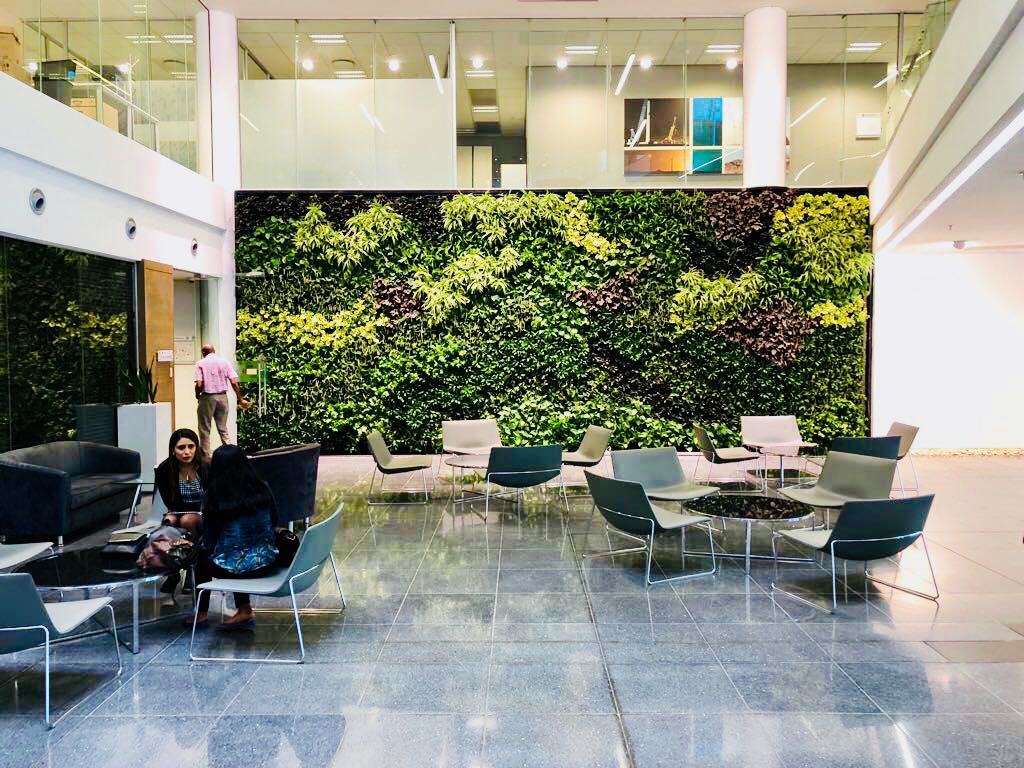 Want to learn more about professional green wall installations? Download our guide, The Professional's Playbook to Decorative Green Walls, for everything you need to know about selling, installing and maintaining a vertical garden.
At GrowUp we will be with you every step of the way, ensuring your first installation is successful and the start of a great journey. Book a meeting to find out more!