Thinking of installing a green wall in your office? Here's why it's a good idea to get a professional to install and maintain your living wall.
Are you looking for something to liven up your office space? A green wall indoors is a beautiful addition to any office, showroom or restaurant. Not only does it bring a living dimension into the space, but it also has many added health benefits.
---
PLANTS IN AN OFFICE SPACE HAVE THREE MAIN BENEFITS (OTHER THAN AESTHETICS):
-Plants improve the quality of the air in a room. They reduce pollutants and volatile compounds in the air, ensuring that we're not inhaling mountains of dust, which causes allergies.
-Plants reduce echoes and noise. A vertical green wall in your office will help to drown out any unwanted external noise. If your office is situated near a highway or construction site, and you're looking for some peace and quiet, then a living wall is an aesthetically pleasing sound-proofing solution.
-Plants have a calming effect. A vertical garden in your office will not only improve the quality of air that employees are breathing in but also help with all-around mental well being. Having plants nearby is known to reduce stress and increase feelings of relaxation.
---
WHY YOU SHOULD PARTNER WITH A PROFESSIONAL GREEN WALL INSTALLER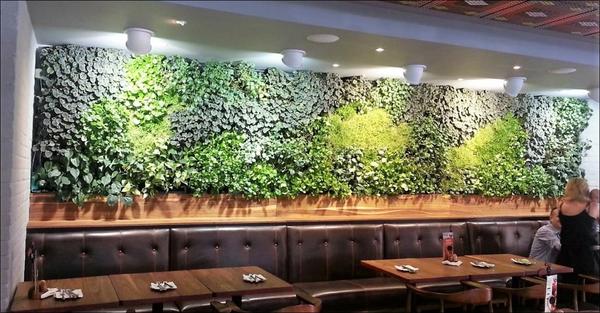 Although the GrowUp system is extremely easy to install and maintain as a home grower, we recommend that businesses use a preferred partner for the installation and on-going maintenance of their green wall. In fact, regardless of which vertical planting system you choose, partnering with a professional will lower the overall cost of ownership of your green wall.
Your green wall partner is an expert at green walls, just as you are at your business and we all know that everything works better when left to an expert.
An expert will assist you with plant selection and maintenance, which is critical to the success of the living wall.
Professionals have a wide network of suppliers who can provide a better variety, and quality of plants, from the get-go. They're also more familiar with the care instructions of each plant, ensuring that your plants have the best chance to grow and prosper. This way you'll have peace of mind knowing that your plants will be well looked after, and you won't face the cost of constantly replacing dead plants.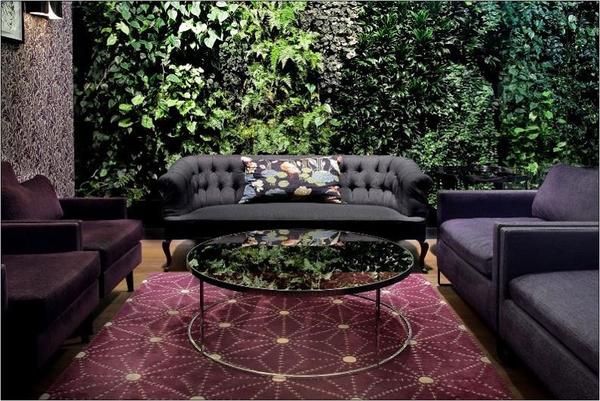 When the wrong plants are selected, or the plants aren't cared for the way they should be, this drives up the cost of ownership - and your living wall won't look as lush and impactful as it should.
Apart from the importance of on-going monitoring and maintenance, a preferred partner will also be familiar with the system itself. This puts them in a better position to immediately identify any problems that arise. Early detection of problems can be the difference between a healthy green wall and having to replace all of your plants and start from scratch. A professional partner will also swap out any plants that show signs of diseases that could jeopardize your entire wall.
---
CHOOSING A PREFERRED PARTNER TO WORK WITH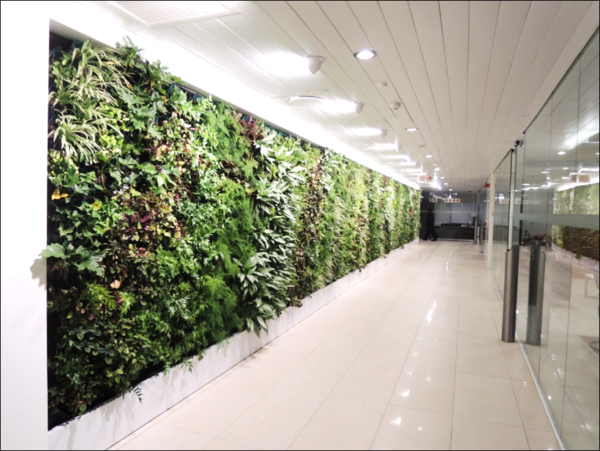 If you already have a green wall professional in mind, make sure you check their credentials and take a look at a portfolio of work they've done for other clients. This way you'll have a good idea of what to expect. You need to make sure that they have also quoted to maintain your living wall - because you don't want to partner with someone who's going to install the green wall and walk away, leaving you to figure out how to care for your plants all by yourself.