Eco-Friendly advertising.
Vicinity is one of the leading suppliers of green walls, also known as modular vertical gardens, in South Africa, Kenya, and Australia.They are our partners in supplying our beautiful, customisable green walls in the United States.
Ricky Frankental
, the owner of
Lemon Decor
and Vicinity, began a wonderful partnership with CEO and Founder of GrowUp Greenwalls,
Grant Leishman
, almost three years ago. Vicinity recently paved the way for green walls in advertising by creating a greenwall billboard for
Hi-Tec
. Ricky explains how this amazing project came about and what challenges they overcame to create this stunning billboard.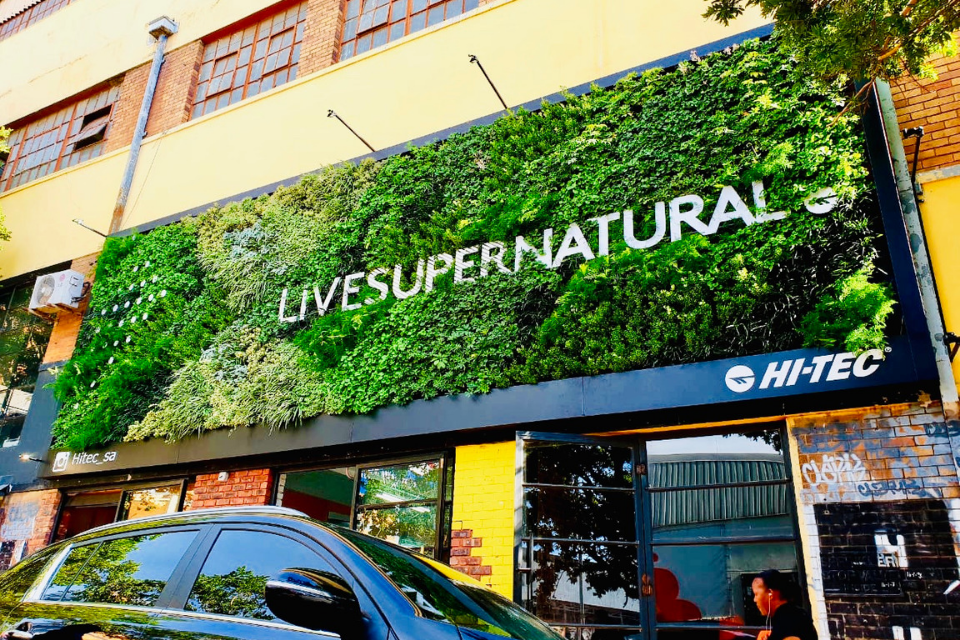 Our wonderful partner, Vicinity, created an amazing green wall as a billboard for a famous outdoor lifestyle, footwear, and apparel brand.
Back to the beginning.
We were approached by [dot]GOOD, a holistic marketing agency, to create a greenwall as a billboard for the well-known outdoor lifestyle, footwear, and apparel brand, Hi-Tec. Hi-Tec's goal for this billboard was to position themselves as an urban footwear brand on top of their other offerings and bring the outdoors into the city. The Maboneng Precinct, as one of the creative hotspots in Johannesburg, was the perfect place to do this.
The challenges and our solutions.
As with any kind of advertising, there were legal processes we all needed to follow to be able to do a billboard of this nature. Initially, the greenwall billboard was planned to be erected on the large concrete columns on the M2 highway that runs over the Maboneng Precinct. Unfortunately, [dot]GOOD was unable to get the necessary permissions from the municipality for this to happen. Luckily for all of us, we were able to get the necessary permissions from the relevant stakeholders to have the billboard put up where it is today with much ease.

The building onto which we constructed the greenwall billboard posed another challenge for the project. The building, which is owned by Propertuity, was dated and had an uneven surface which would not support the greenwall billboard. It had an old fire bell, concrete, old gutter pipes and windows that we needed to consider before starting the building process. Our system is easily customisable so overcoming this roadblock was easy. We added lightweight cladding, from one gutter to the other, to even out the surface, using the black bracing bars already on the building. Once completed, we built customised rails where the plants and the irrigation system would be installed. Our rails are usually a metre in length but we made longer rails for this specific project.

The slogan, LIVESUPERNATURAL, was our next technical challenge. It's very clever branding alongside this billboard. Integrating the slogan into the billboard without disrupting the system took quite a lot of planning. We mounted the lettering on horizontal steel pipes that were bolted down between the plants. Each dot, as part of their branding, is put on its own pipe which can be folded back for the plants to be watered or attended to by one of our greenwall experts. Using the right plants was important to get the right aesthetic instantly which is important for the brand campaign and which our system gets done easily. The floodlights we installed make this greenwall billboard look striking at night, easily recognisable and unique to the Maboneng nightlife. We wanted this to be the aesthetic of this project so that the people on the streets of the Maboneng Precinct would take photos to share on their social media platforms.
---
For interesting greenwall tips and tricks, sign up to our blog.
---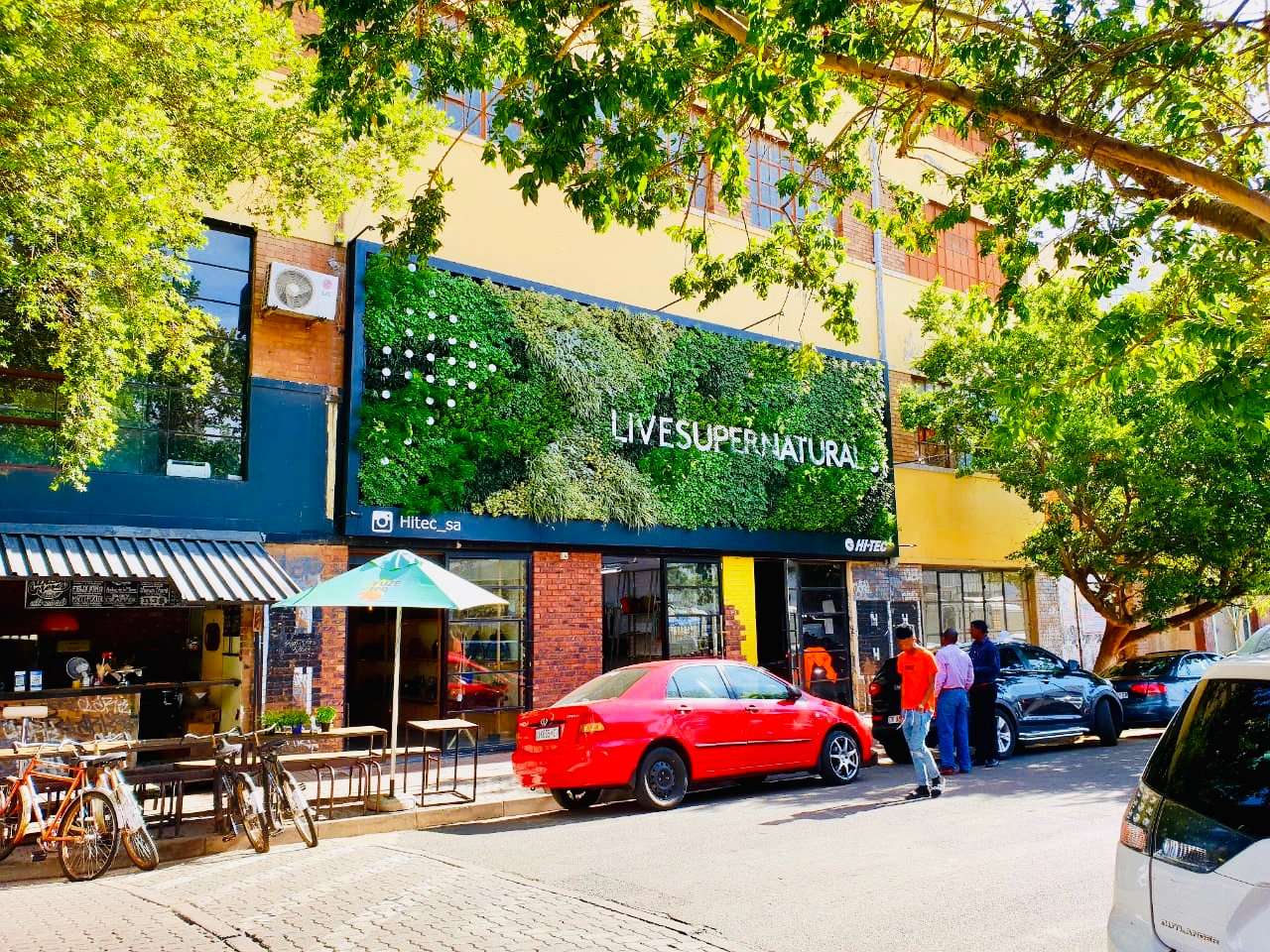 The entire installation process took a week. This is a great turnaround time for a project that required us to work in a bustling street full of shoppers and sightseers. Once it was complete, we noticed that some of the plants in the green wall needed to be pruned because they were hiding the dots and the slogan. As they continue to grow, they are continuously pruned and maintained by LivingGreenwalls. The greenwall billboard is monitored by our remote electronic system. We're able to control the irrigation remotely and there is a sensor on the wall so that should the system have any issues, such as a power cut or the water is cut off, we're notified via mail and we send one of our greenwall experts out to solve it.
Learnings and where we go from here.
Vicinity started nine years ago and is one of the leading greenwall companies in South Africa. Being one of the pioneers in this industry means were are always on a learning process. One lesson learnt from this particular project was how to improve our scaffolding. We didn't get the scaffolding correct at the beginning but managed to sort it out through some trial and error. Now we will know how to overcome similar challenges that might come our way right from the start.

We have always seen ourselves on the same level as any other greenwall companies abroad but when creating green walls for the South African market, we noticed a lack of skills. Due to this we had to modify the greenwall system to what it is today so that anyone can install it.

This project shows the opportunities not only for us at Vicinity but for other companies in different industries. Using a green wall for advertising positions any brand as one that is environmentally-conscious and creative. We would be so excited to work on something similar to this in the near future and hope that international companies see this as an opportunity to work with our many resellers around the world.
If you would like to do something similar for your business or for your clients, you can meet with one of our living green wall experts to get started.