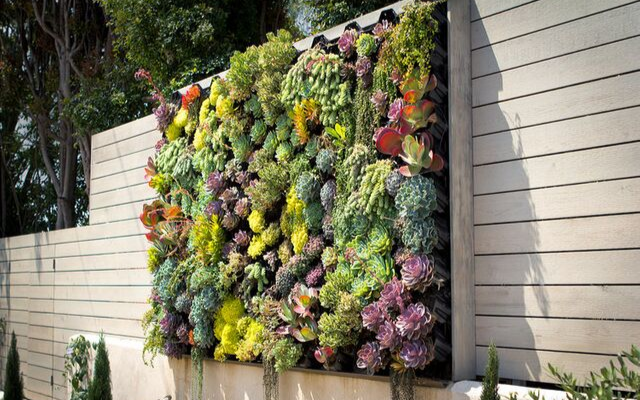 Breathtaking Greenwall by Bosler Earth Design.
Catherine Bosler, the founder of Bosler Earth Design, changed a client's entire backyard, giving them a beautiful space to relax in and enjoy spending time with their family and friends. Catherine had a fulfilling 18-year career working as Art Director and Production Designer for TV commercials and film productions before going back to school to graduate from the Landscape Architecture Programme at UCLA. She shares how her specialty as a drought-tolerant landscaper helped create this amazing garden space with a stunning succulent greenwall.
Respected landscaper Catherine Bosler created this stunning succulent greenwall with GrowUp Greenwalls when redesigning a client's lovely home in Los Angeles.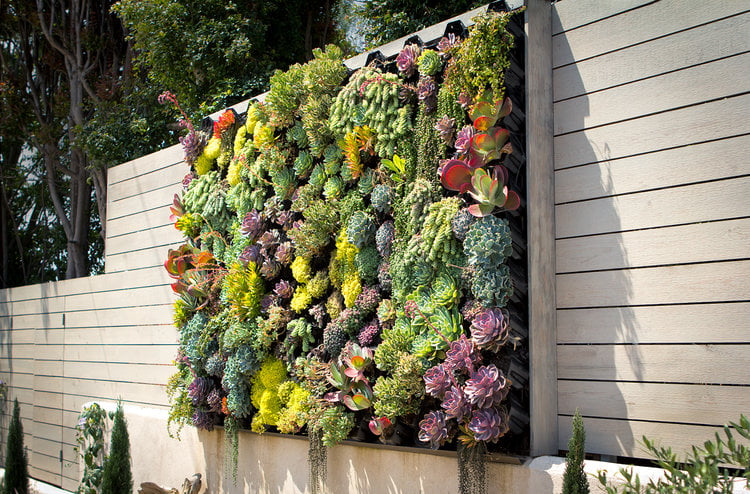 How we got started
Our client wanted to create a design that incorporated a natural flow from the indoors to the outdoors, be aesthetically appealing and bring comfort while still being functional. The client requested privacy, a fire pit, an outdoor kitchen, a large dining area, a butterfly garden, and an improved view from the house.

We needed to ensure that the specific spaces each felt like cozy rooms linked together into a breezy large space. Ensuring the space remained comfortable enough for everyday living, while still being able to handle large crowds while entertaining was essential.
---
For interesting greenwall tips and tricks to make your own garden just as beautiful, sign up to our blog.
---
What we needed to do
We added a large fountain, designed as an Italian garden, to match the building architecture, with geometrical and symmetrical beds. The fountain provides soothing sound and cooling effects while a promenade pathway around the fountain invites the user to the lavender and citrus scents.

A greenwall, installed near the butterfly garden, was the perfect piece of sustainable art that added greenery to their backyard. We designed a large fence on top of their existing garden wall that increased privacy and is where we incorporated the large succulent greenwall as a design showpiece.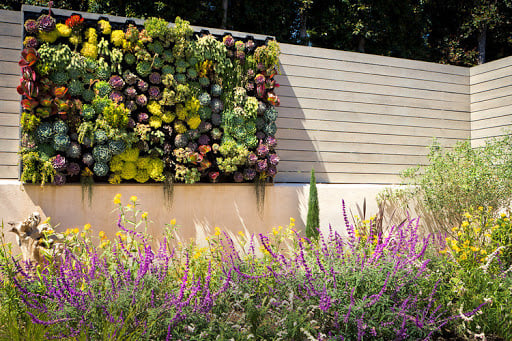 Bosler Earth Design installed the succulent greenwall from GrowUp near the
butterfly garden.
Greenwalls are known to be quite expensive here in the United States where mainly big corporations have them in their office buildings. I was glad to have found an affordable and easily customisable system from GrowUp Greenwall for my client. The construction of the succulent greenwall didn't take a long time and the client is able to change succulents if they desire.

Succulents need very little irrigation and having a watering system that can be controlled automatically and remotely is impressive. Succulents are also perfect for the hot, dry weather experienced in Los Angeles which means low maintenance for the client. The variety of different shades of greens and some reds and oranges in the succulent greenwall adds to the aesthetics of the garden.

The lighting design enhances the beauty of the garden at night so that people are more apt to linger after dark. The lighting also adds to the beauty of the succulent greenwall and creates a soft ambient glow for a magical atmosphere while making the garden safe to navigate at night.
---
A happy client means a happy business
Our client was extremely happy with the finished project and was impressed that the large vertical greenwall could be seen from the kitchen windows. It's also visible throughout the backyard and stands out as a focal point for everyone to admire. The succulent wall has helped attract all kinds of life such as hummingbirds and other types of birds for the client's pleasure.
---
If you would like to do something similar for your business or for your clients, you can meet with one of our living green wall experts to get started.
Want more information on how to sell a greenwall with us? Contact Us today.