The business of green walls
Checklist: How to Choose the Right Plants for Your Greenwall
You'll be able to get the right plant each and every time for your many clients with this easy checklist.
---
You'll be able to get the right plant each and every time for your many clients with this easy checklist.
---
With so many beautiful plants to choose from, it's tough to select the right plants for a client's green wall, and sometimes this can feel like a daunting task. Not only do you have to take into account any aesthetic factors, you also need to consider the environment of the living wall location, and the maintenance thereof.
With so many wonderful varieties of plants available throughout the country and considering the diversity of climates, it is important that local plant professionals make the final decision on plant choices. Our checklist on choosing the right plants for your next green wall is a great place to start this important task, but will never replace the skills of a plant professional.


---
🔲 Do these plants have the same watering requirements?
Having plants with similar watering requirements makes the maintenance of the green wall easier. The soil mixture and size of the root ball also impact watering frequency and should be considered during the design phase.
🔲 How big will they get?
For a typical decorative wall you are looking to choose plants that are big enough to create a full instant effect once planted in the pots. It is advisable, though, to select plants that will not grow too quickly as faster growing plants require regular trimming and may also become rootbound, leading to more frequent replacement.
🔲 What are their light requirements?
Make sure all your plants have similar light requirements! There are high-light, medium-light and low-light plants according to My City Plants. You don't want to have plants that thrive on bright living conditions (like herbs) kept indoors in low light conditions. Similarly, you don't want to put interior plants outdoors, and subject them to varying weather conditions. High-light plants require you to place your green wall facing filtered direct sunlight, while low-light means having your green wall in your foyer or staircase. A few great low-light plants are tropical plants, like sansevieria and cascading pothos.
🔲 Are these plants toxic to animals or humans?
If you or your client has some furry friends, then think carefully! If plants are ingested by your pets it could mean symptoms like vomiting and diarrhea... or worse. Some plants aren't pet-friendly such as autumn crocus, English ivy, dieffenbachia and poinsettia. Bird's-nest fern, spider plant and parlor palm are great pet-friendly plants that would lovely on any green wall.
🔲 Do these plants look good together?
Although you need ensure that the plants you choose meet the right maintenance and environmental requirements, balancing the color, textures, shapes and foliage is just as important. You want the green wall to look lush and beautiful. Consider where exactly on the green wall you'll need a pop of color. Make the most of the GrowUp hexagonal pot design to plan the design of your greenwall to get the exact look you are after.
🔲 Can I get them in 6" pots?
The GrowUp system is ideally suited to transplanting from 6" pots. Certain varieties from certain growers will allow planting from 4" pots, saving money and allowing the plants to grow in. If plants are only available in 1 Gallon pots be careful to select plants that have not been in the pots too long so that you do not have to trim too much of the root base.
---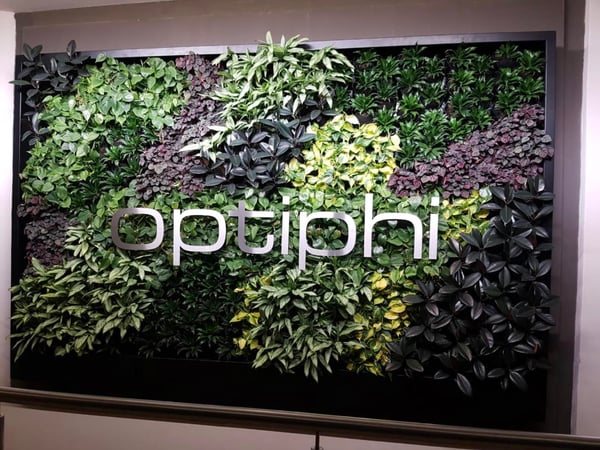 ---
The most common plants used in living greenwalls
There are a few plants that are used in numerous green walls and for good reason:
Ferns - They are one of the garden plants that are preferred for their adaptability and humidity resistance. Ferns are easy to grow and they cover the area quickly.

Purple waffle plant, red ivy - This plant is an elegantly trailing evergreen perennial in warm to tropical climates. The purple and silver foliage make it a great accent plant on a green wall. It is fast-growing and has tiny white flowers bloom that in spring and summer. It can handle a range of soil pH levels and thrives in warm, wet but well-drained conditions.

Succulents - Some great succulents are crassulas, sempervivum (a hardy succulent great for tough climates), sedum and echeveria. Echeveria tend to have rosette growth formation which makes the green wall even more beautiful.
---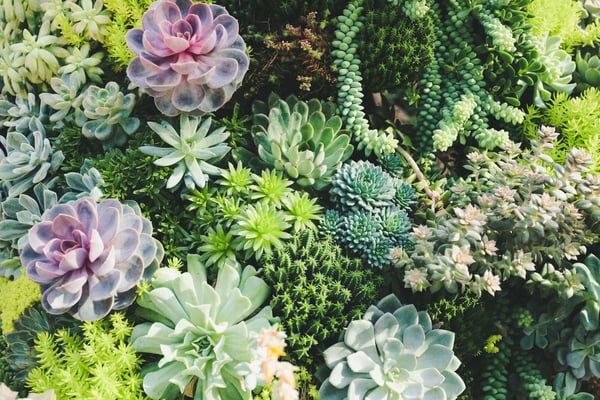 ---
Pothos, golden pothos, devil's ivy - This is a classic houseplant and one of the more forgiving indoor plants, by tolerating any kind of lights, doesn't mind dry spells and thrives in different kinds of soils whether rich or poor. It's a pretty tough plant to kill. As a trailing vine it is a smart choice for a green wall as it can be encouraged to spread and fill any gaps.

Crotons - Croton is a colorful shrub with leathery leaves that love bright light. New leaves will be smaller and less intensely pigmented if this plant is kept in a low-light environment. This wonderful plant thrives in high humidity and temperatures around 60 to 85 degrees F.

Hosta - Hosta need shade and cool climate. They have striking green, patterned variegated leaves and spray of white and lavender flower in summer.
---
Designing a green wall should be a fun and creative process for both you and your client and having this checklist will ensure you get the right plants for a beautiful green wall. Remember that each living green wall is individually designed for a specific project, and all walls are different, so let your creativity flow with this checklist in mind.
Posted by Damon Vinje
Facebook
LinkedIn
Twitter