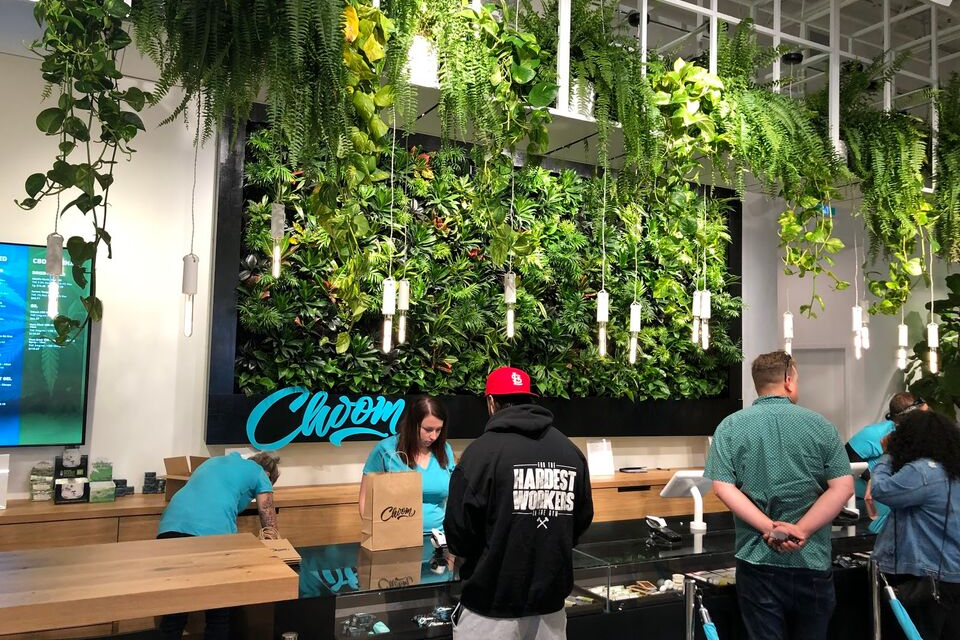 Breaking barriers with New Earth Solutions
Dylan Robertson and Mitchell Cowburn, the founders of New Earth Solutions, both majored in Real Estate and Housing at the University Of Guelph, Ontario, Canada. A few years later they embarked on creating a business that would integrate eco-friendly technologies to improve the aesthetics and efficiency of buildings.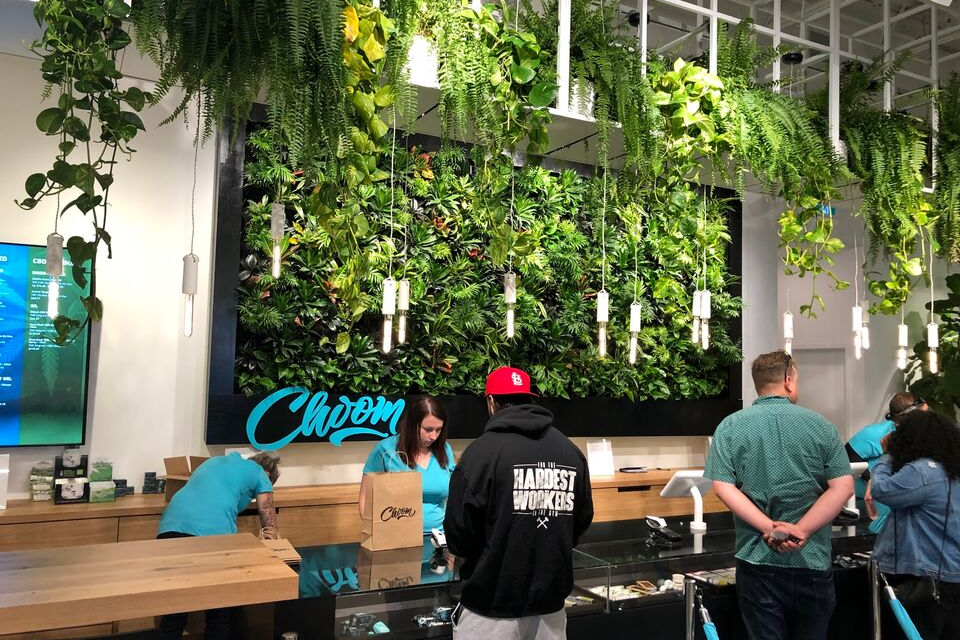 Everyone wins when more green industry businesses partner up. New Earth Solutions is a great sustainable design company founded by two vibrant entrepreneurs. We are so excited to have them as a greenwall partner and collaborate on selling greenwalls.
Before New Earth Solutions was founded, Dylan sold smart home technology door - to - door while leading, managing, and training sales teams of up to 24 reps across Western Canada. Mitchell pursued a career as a Sales Contractor selling PV Solar, LED lighting, living walls, living roofs and energy audits.

With their passion for sustainability, they began a wonderful partnership with CEO and Founder of GrowUp Greenwalls, Grant Leishman after experiencing major success in the first few months, building whopping 14 greenwalls for various businesses. We asked Dylan and Mitchell why they love the green industry and what partnering with GrowUp Greenwalls means to them and their business.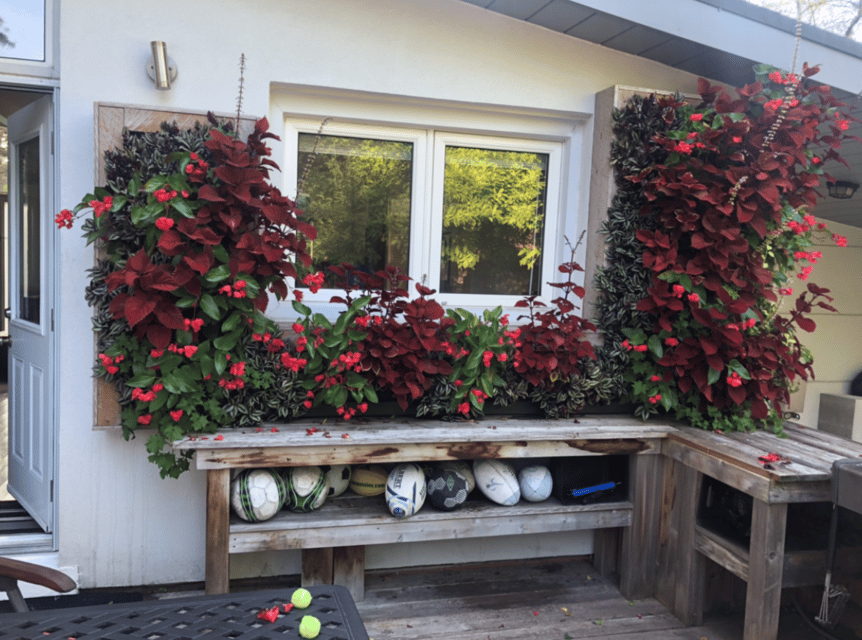 A beautiful greenwall for a lovely home by New Earth Solutions.
Why go green?
Four years ago we experienced the most growth, success and challenges up until that point in our lives. We were both at the top of our careers in selling green technologies when we decided to venture off on our own. We never would've imagined doing what we're doing now. Starting and running New Earth Solutions has been about learning, losing, and winning at an extremely fast rate.
---
"We installed our first system in April 2019 and have since sold 14 greenwalls and sold four different projects in the last six weeks alone. Starting a business is never easy, especially something as worthwhile as creating more eco-friendly spaces. After completing our first year in business, we are extremely hungry to grow"
---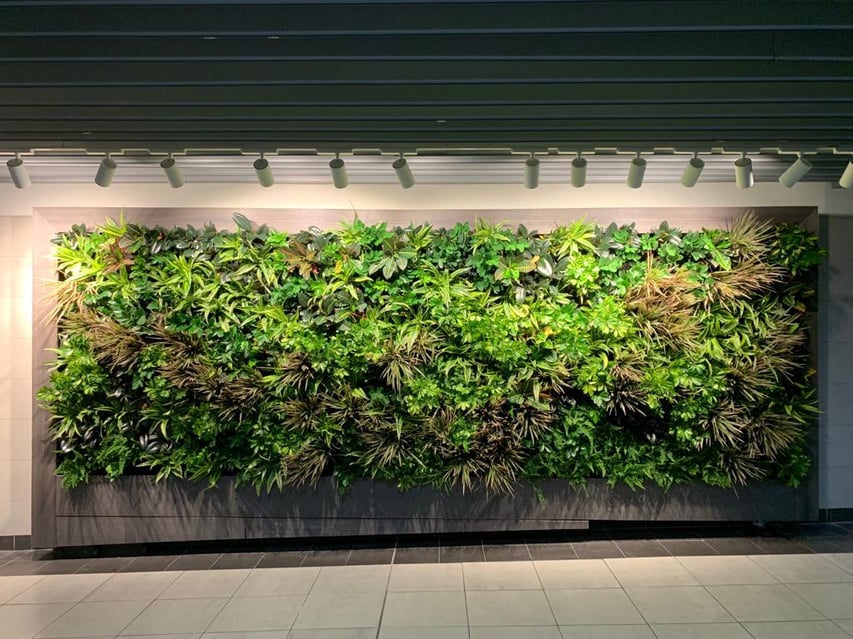 A beautiful greenwall using the GrowUp greenwall system done by New Earth Solutions.
We believe that if your mission is powerful enough to you, then you will find success in whatever you are doing. The reason we chose to pursue the green industry was the combination of believing that this was good and that we could make a massive positive impact on the world as well as seeing the green industry as a viable industry to grow a business in.

People are becoming more aware of sustainable living habits. We have the mission to make sustainability a profitable investment so that not only are you positively affecting your environment but you will also see sustainability and the green industry as a great investment.
---
If you and your business would like to partner up with GrowUp to create beautiful, eco-friendly workspaces, you can meet with one of our living green wall experts to get started.
---
Partnering up with a like-minded company
"GrowUp Greenwall distributes a product that allows us to best any living wall company design in terms of customizability, project timeline, maintenance of the wall, overall price, and risk. The system is modular which enables us to have a short turnaround time and evades the risk of missing deadlines or having a large disruption in operations. " - Mitchell Cowburn

"We can custom build walls - something we have never seen done before within the industry, which makes the total cost of ownership for one of our walls, using the GrowUp greenwall system, significantly cheaper per square foot. The GrowUp greenwall system is also easy to maintain which reduces the cost even more." - Dylan Robertson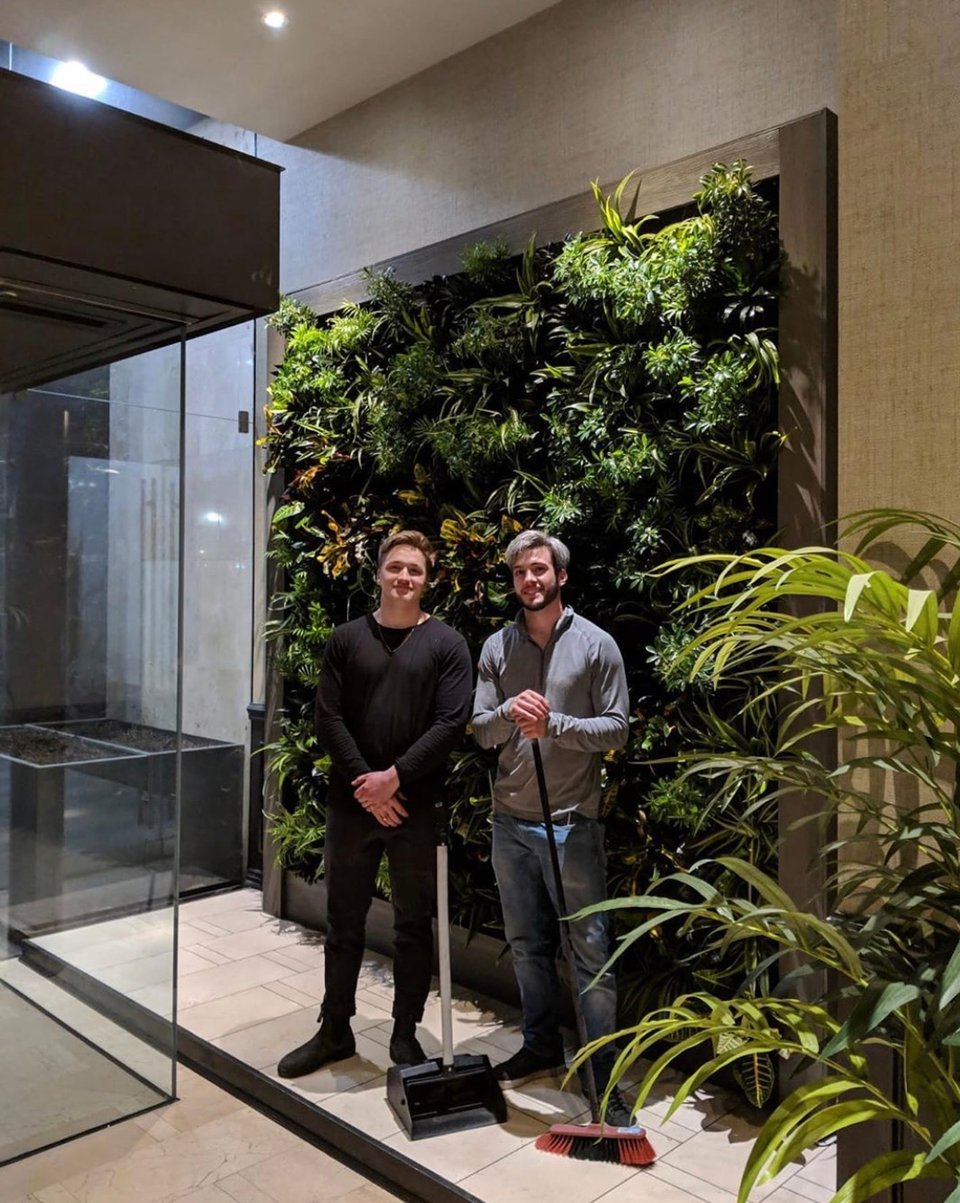 New Earth Solutions founders, Mitchell Cowburn (left) and Dylan Robertson (right) spotted in front of a GrowUp greenwall.
What this partnership means for you
The system can be used in two ways - for new builds and retrofits. For a newly built or prefab building, the designer and architect are who we like to communicate with the most. These design professionals discuss amazing, creative ideas with us. What we do is provide them with the information and resources to ensure their vision becomes a reality.

For a retrofit, property managers are our key point of contact. They call the shots at the end of the day and when they approach us, it's our job to share valuable insights into how their building will transition and what will be taking place in their space. A greenwall is always an exciting idea and we really enjoy hearing stories after the installation on how the feature has positively impacted people's behavior.

Working on any project that has the goal of adding a biophilic design (a design that increases people's connection to nature) to a space is always fun and is what we are all about. From major corporations to retail stores and restaurants, New Earth Solutions wants to ensure buildings are integrated with green technologies to be aesthetically pleasing and environmentally friendly.
Are you interested in being the premier supplier of Greenwalls in your city? Click on the link below to learn more about our partner program.